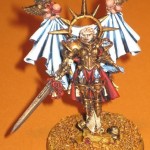 Ich mag den neuen Adeptus Sororita Codex. Natürlich haben sie sich extrem wenig Arbeit mit dem Ding gemacht, aber zumindest funktioniert er.
Die neuen Regeln für St. Celestine, Kyrinov and Uriah Jacobus sind schlicht hinreißend und ich find die Idee gut, dass nun jede Einheit ihren eigenen, auf sich zugeschnittenen Glaubensakt hat. Das einzig Tragische ist, dass die Inquisition gestrichen worden ist. So kann man jetzt nur noch mit dem Codex, den keiner leiden kann, eine Inqusitionsarmee aufstellen.
Die einzigen Einheiten, die ich gern zurück hätte, wären die Assassinen. Die Repentia sind leider immer noch ziemlich schwach, aber sie sehen zumindest irgendwie spielbar aus. Ich würde mich echt freuen, wenn die Repentia Standardtruppen und die Assassinen die zweite Eliteauswahl wären.
Das Einzige, was wirklich nicht sinnvoll funktioniert, ist die Generierung von Glaubenspunkten. Nicht etwa, weil das jetzt eine rundenbasierte Sache ist. Das ist, denke ich, eine ziemlich clevere Idee. Das Problem liegt darin, dass die Anzahl der Glaubenspunkte nichts mehr mit der Armeegröße zu tun hat.
So, und hier kommt mein Vorschlag, wie man das beheben kann:
Man startet mit einem Generierungswürfel und für je volle 250 Punkte des Punktelimits erhält man einen weiteren Würfel (vergleiche Tabelle). Man wirft nun zu Beginn jeder eigenen Bewegungsphase alle Generierungswürfel und für jede 4+ erhält man einen Glaubenspunkt.
Zum Beispiel: Wenn ich nun ein Spiel mit einem Punktelimit von 1000 Punkten habe, würde ich 5 Generierungswürfel haben, selbst wenn meine Armee nur 998 Punkte groß wäre. In meiner ersten Runde würfle ich nun eine 6, 5, 3, 3 und eine 1, daher stehen mir 2 Glaubenspunkte für meinen ersten Zug zur Verfügung.
Das ergibt für ein Spiel mit einem Limit von 1500 Punkten 7 Generierungswürfel. Diese haben einen Erwartungswert von 3,5 Glaubenspunkten genau wie der W6, den man ohne die Zuhilfenahme dieser Hausregel werfen würde.
Der Unterschied liegt darin, dass die durchschnittlichen Ergebnisse häufiger eintreten werden, als die extremen Ergebnisse. Was man auch beachten sollte, ist die Tatsache, dass es nun möglich ist, einen Zug lang gar keine Glaubenspunkte zu besitzen. Das ist allerdings ein sehr unwahrscheinliches Ergebnis für normale Punktelimits.
Uriah Jacobus erlaubt es einem, den Wurf für die Generierung von Glaubenspunkten zu wiederholen. Man würde im Rahmen dieser Hausregel alle Generierungswürfel – nicht nur einen – erneut würfeln.
Sollte man eine Adeptus Sororita Armee mit einer anderen Fraktion gemeinsam in die Schlacht führen, wie es in Apocalypse-Spielen üblich ist, wird die Anzahl der Generierungspunkte an den tatsächlichen Punktkosten aller Sororita Einheiten festgemacht, nicht mehr am Punktelimit.
| | |
| --- | --- |
| Punktelimit | Generierungswürfel |
| 0 – 249 | 1 |
| 250 – 499 | 2 |
| 500 – 749 | 3 |
| 750 – 999 | 4 |
| 1000 – 1249 | 5 |
| 1250 – 1499 | 6 |
| 1500 – 1749 | 7 |
| 1750 – 1999 | 8 |
| 2000 – 2249 | 9 |
| +250 | +1 |
Die Regel ist noch nicht getestet. Ich würde mich daher über Rückmeldung freuen, wie gut oder schlecht sich das Ganze so macht.
---
Games Workshop, Warhammer 40,000 and all associated marks, logos, names, and products are Intelectual Property of Games Workshop Limited and protected by Copyright. These items have been used unofficially and quoted exclusively as reference with no infringement on any associated rights intended and without implying endorsement by the copyright holder. Other contents of this articles are published without permission or license.
Games Workshop, Warhammer 40,000 und alle zugehörigen Marken, Logos, Namen, und Produkte sind Geistiges Eigentum von Games Workshop Limited und urheberrechtlich geschützt.Diese Elemente wurden inoffiziell und ausschließlich als Referenz zitiert ohne die Absicht damit verbundene Rechte anzufechten und ohne eine Billigung durch den Rechteinhaber zu implizieren. Andere Inhalte dieses Artikels werden ohne Genehmigung oder Lizenz veröffentlicht.