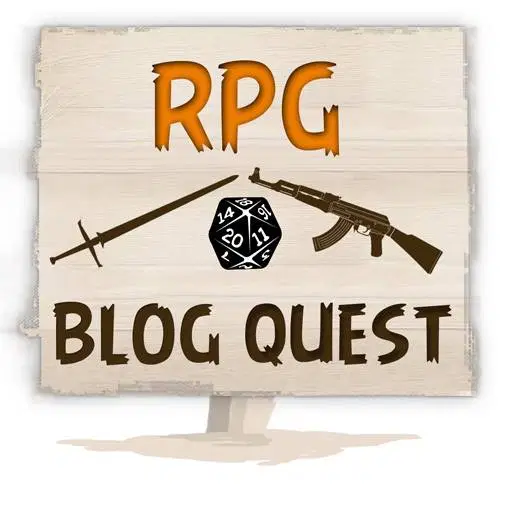 RPG-Blog-O-Quest #057 – Besondere Abenteuerformen
Warst Du schon in einem Trichter? Hattest Du Spaß und was hältst Du von dem Konzept?
Froschzeh: Hat das was mit Alkohol zu tun?
Reptilienzunge: Nein, mit DCC. Ginge aber bestimmt auch als Trinkspiel. Immer, wenn einer stirbt… (Die to see if I am getting drunk…)
Froschzeh: Mir gefallen die Rubbellos-Figurenbögen. Da wünsche ich mir immer, ich hätte Fingernägel.
Reptilienzunge: Sind doch eh alles Nieten.
1:1-Abenteuer? Schon erlebt? War es eine andere Erfahrung?
Reptilienzunge: Ja? Ja. Nein.
Froschzeh: Ja. Ja. Ja?
Reptilienzunge: Nein. Nein. Nein!
Rollenspiel an besonderen Orten oder besonderen Ereignissen: ein Zugabenteuer im Zug, Abenteuer auf einer Burg oder mitten im Wald – habt ihr sowas erlebt? Gibt es besonders intensive Erlebnisse? Rollenspiel zum Kindergeburtstag, zu Halloween oder als Prä-Weihnachtsrunde? Machst Du sowas, wie sind Deine Erfahrungen?
Reptilienzunge: Machst du sowas nicht? What's wrong with you people?
Froschzeh: Das klingt alles ein bisschen verkrampft. Und monothematisch. Aber, ja, einige dieser Formen habe ich ausprobiert. Es war sehr Gefühlsintensiv und mit Noppen.
Reptilienzunge: Besonders empfehle ich Kriegsspiel im Krieg. Ist ja zum Glück eigentlich immer irgendwo einer.
Rollenspiel im "festen Format": D&D Adventures League oder Pathfinder Society. Ein SC kann weltweit gespielt werden, immer zu den selben [sic!] Regeln, immer mit unterschiedlichsten Gruppen. Hast Du sowas schon gemacht oder fändest Du das reizvoll? Hast Du vielleicht schonmal selbst eine Gilde organisiert wie Nordana (Link) oder die ADDKON (Link)? Wie steht es mit Rollenspielturnieren? Oder Multiparallelabenteuern? Habt ihr an so was schonmal teilgenommen oder würdet es gerne?
Froschzeh: ADDKON kenne ich!
Reptilienzunge: ADDKON war sogar zuletzt in dem Podcast, den wir promoten mussten!
Froschzeh: Haben wir dafür eigentlich was bekommen?
Reptilienzunge: Merchandise.
Rollespiele [sic!] oder Erzählspiele ohne Spielleiter: von Western City bis hin zu Fiasko? Habt ihr hier Erfahrungen sammeln können und könnt ggf. gar einige Systeme empfehlen?
Reptilienzunge: UltraQuest!
Froschzeh: Cowboy und Indianer? Dürfen wir das noch sagen? Cowboy?
Reptilienzunge: Was wir problemlos sagen dürfen ist auf jeden Fall, wie affig diese Unterscheidung (und nicht nur diese!) ist. Zielt mal wieder auf die Konstruktion sauber getrennter Schubladen, um ja kein Kontinuum, keine "Vermischung" zuzulassen.
Froschzeh: Haben sie sich da eigentlich schon eine wissenschaftliche Nomenklatur einfallen lassen? Ludis gygaxis,l. milleris und l.staffordiensis?

Reptilienzunge: L. pondsmithii spp.
BonusQuest: Kennt ihr noch weitere "Sonderformen" von RSPs (abseits von Online- und Foren-RPGs, die waren Thema im letzten Monat)?
Reptilienzunge: Fragt die Greifenklaue nach Sex? Haben Greifen Sex? Legen die Eier?
Froschzeh: Vielleicht laichen die auch.
Reptilienzunge: Das machen glaube ich nur Erdgreifen. Die tragen auch ihren Partner auf dem Rücken herum.