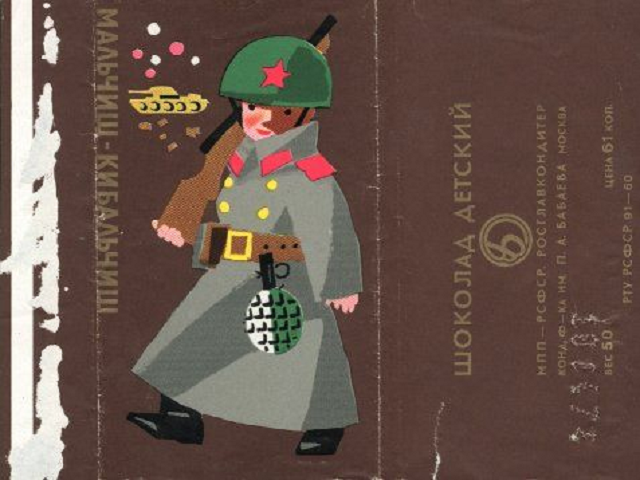 Nun habe ich "Schokolade, Vanille, Karamel" als weitschweifendes, assoziatives Thema angekündigt, aber dann gibt es doch einfach nur Süßigkeiten.
Magische Süßigkeiten.
Mit Liebe gemacht.
Ob selbstgemachte Milchbonbons oder massengefertigte Schokoladentäfelchen mit patriotischen Motiven auf dem Umschlagspapier, dass sie von den Lieben zu Hause kommen, verleiht diesen Süßigkeiten aus der Feldpost ihren eigenen besonderen Wert.
Wer sich auf die alten Wege versteht, kann mehr als Kalorien und Grüße auf den Weg schicken. Die Süßigkeit wird zur physischen Verbindung über die die magische Kraft und Wärme der Liebe, Sorge und Hoffnung des Absenders zum Empfänger fließt.
Eine Süßigkeit mit einem solchen Segen zu belegen, erfordert ein etwa einstündiges Ritual. Dabei muss ein Charakter als Empfänger gewählt werden, zu dem der die Süßigkeit verzaubernde Charakter eine Loyalität (Allegiance) besitzt. Jeder rote Charakter mit mindestens einem Rang in den Fertigkeiten Kast oder Ritual kann über die notwendigen Kenntnisse verfügen.
Der Verzehr der gesegneten Süßigkeit verleiht einem erschöpften Empfänger 1W4 temporäre Trefferpunkte, die eine halbe Stunde lang anhalten. Ein entkräfteter Empfänger zählt stattdessen für die nächste halbe Stunde nur noch als erschöpft.
In Ausnahmefällen kann entschieden werden, dass auch ein anderer Charakter als der ursprüngliche Empfänger aus dem Verzehr diese Vorteile erhalten kann, wenn er ebenfalls unter die gewählte Loyalität fällt.
Die Partei und das Kommissariat stehen solchen abergläubischen Praktiken aus ideologischen und machtpolitischen feindlich gegenüber. Und auch wenn der Grad der Verfolgung vom aktuellen politischen Klima abhängen mag, so schwebt doch immer der bedrohliche Schatten der Sonderlager über denen, die auch nur in Erwägung ziehen, ihren Liebsten in der Ferne auf diese Weise bezustehen.
---
Ein wenig ist dies auch ein Auftakt zu Überlegungen zu einer Bearbeitung des Themas Soldatenmütter in The Red Star, die mich seit zwei bis drei Jahren immer wieder beschäftigt.
---
The Red Star and all related characters are ™ and © Christian Gossett. Used with kind permission.
The Red Star Campaign Setting is © Green Ronin Publishing, LLC.
The Red Star und alle verwandten Charaktere sind ™ und © Christian Gossett. Verwendet mit freundlicher Genehmigung.
The Red Star Campaign Setting ist © Green Ronin Publishing, LLC.