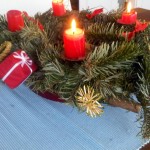 Was ich mir zu Weihnachten wünsche: Ein neues Spiel für das ich mich genug begeistern kann, um dafür Artikel/Material zu erstellen.
Durch einige interne Diskussionen in der "Redaktion" von d6ideas bin ich zu einer fatalen Erkenntnis gekommen. Ich befinde mich auf einer kreativen Einbahnstraße. Keine Sackgasse. Eine Einbahnstraße. Von Schreibblockade oder Ideenmangel keine Spur, aber wenn am Abend der Stift aus der Hand gelegt ist, wenn das Brainstorming abgeschlossen und die Redaktionskonferenz beendet ist, dann ist es immer wieder die gleiche verkrüppelte Hand voll Systeme, die da auftauchen.
Dass mir genug Ideen kommen, zeigt offensichtlich, dass ich dieser Systeme lange nicht überdrüssig bin. Warum auch?
Aber: Irgendwann haben mich diese Systeme erstmalig in ihren Bann geschlagen, und wenn sie es geschafft haben, dann muss es noch mehr geben, die das auch können. Aber wo sind sie? Früher habe ich sie spielend leicht gefunden, heute scheinen sie sich vor mir zu verstecken.
Meine These: Das Internet ist schuld! (Traurig aber wahr, so etwas als Redakteur eines Blogs/Online-Fanzines schreiben zu müssen…)
Praktisch alle Spiele, in die ich mich verliebt habe, habe ich "selbst entdeckt". Ich habe sie – ohne Vorkenntnisse – in einem Laden in die Hand genommen und mir unbeeinflusst angesehen. Ich hatte die Gelegenheit sie für mich zu entdecken. Die Dinge zu finden, die mich – mich selbst – an ihnen begeistern. Die Beziehung zu ihnen ist persönlich.
Heute weiß ich Jahre vor Erscheinen eines Spiels, dass es kommen wird. Ich werde mit Vorankündigungen, Previews und Reviews bombardiert. Leute kotzen mich mit ihren Meinungen, Lobpreisungen oder Verrissen zu. Und automatisch habe ich selbst schon eine Meinung, noch bevor ich überhaupt die Chance hatte, sie mir zu bilden. "I already know what kind of girl you are. So let's talk price." Wie soll das Liebe werden?
(Dazu kommt, liebe Freunde, in 9 ½ von 10 Fällen können weder die Designer, noch die Verlage (so sie getrennt sind) und auch die Rezensenten oder Fans (der nullten bis ersten Stunde) wirklich mitreißend (das heißt auch: knapp) vermitteln, was an einem Spiel begeisterungswert ist. Und dann nehme ich nicht etwa bloß die Meinung des Rezensenten, sondern viel schlimmer noch meinen Ärger über die Unfähigkeit des Rezensenten (oder Werbenden) mit. In dem ½ Fall, der gnadenvollerweise übrig bleibt, ist leider immer noch nicht gesagt, dass das vermittelte "Begeisterungswerte" sich dann auch mit dem deckt, was mich persönlich begeistert.)
Ich will mich doch einfach bloß neu verlieben!
Aber vielleicht sollte ich mir das auch lieber zum Valentins Tag anstatt zu Weihnachten wünschen…
Für nächste Woche hingegen wünsche ich mir:
Deutsche Artikel:
Am Montag zeigt uns Shadom die zweite Seite aus seinem D6 Atlas, diesmal mit Karten für das kommende Spiel Seelenfänger.
Am Freitag gibt uns Shadom gleich noch einmal die Ehre. Sein deutscher Charakterbogen für Changeling: The Lost wird wieder begleitet von einer Übersetzungsmatrix mit den notwendigen Spielbegriffen.
Englische Artikel:
Am Montag gibt es die Atlas-Seite zum deutschen Seelenfänger mit englischem Begleittext.
Am Donnerstag handelt es sich bei yandere's Patience, unseren ersten Brettspielartikel, eine Hausregel für das hervorragende Science Fiction Spiel Twilight Imperium (lohnt auch als Weihnachtsgeschenk).