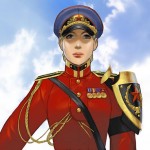 Das Red Star Campaign Setting ist – unter anderem – auch ein Militärrollenspiel.
Als solches bietet es eine Menge Informationen zur Organisation und Struktur der Roten Flotte in Bezug auf die Charaktere, und wie die einschneidenden Veränderungen im Setting, wie der Zusammenbruch der UdRRS, sich auf dies alles auswirken.
Es etabliert auch Beförderungen innerhalb der Flotte als einen zusätzlichen Belohnungsmechanismus für Spielercharaktere.
Allerdings lässt es dabei eine andere Möglichkeit für Belohnungen gänzlich außen vor: Es beinhaltet weder Beschreibungen noch Regeln für Orden und Auszeichnungen.
Dieser Artikel versucht an dieser Stelle Abhilfe zu schaffen.

Die Grundfunktion von Auszeichnungen in den Regeln ist es einen Bonus auf Reputationswürfe zu geben, um den Träger der Auszeichnung zu erkennen. Je nach Auszeichnung können sie auch noch weitere Effekte haben, die dann in der jeweiligen Beschreibung vermerkt sind.
Um eine Auszeichnung zu erhalten, muss sich ein Rotflottist zunächst einmal für die Auszeichnung qualifizieren (Spielleiterentscheid basierend auf der jeweiligen Beschreibung der Auszeichnung). Darüberhinaus muss er alle weiteren bei der Auszeichnung angegebenen Voraussetzungen erfüllen. Zuletzt muss noch sein Vorgesetzter einen besonderen Requirierungswurf bestehen, dessen Schwierigkeitsgrad von der Auszeichnung abhängt. Den Vorgesetzten davon zu überzeugen, diesen Wurf zu machen, kann dabei gegebenenfalls den Einsatz von Diplomatie, Bestechungsgeldern (vor allem in der zunehmend korrupten Rote Flotte nach dem Fall der UdRRS) oder anderen Aufgaben erfordern.
Held des Roten Sterns
Dies ist der höchste Ehrentitel der an Soldaten der Roten Flotte und Bürger der UdRRS für Heldentum verliehen werden kann.
Voraussetzungen: Gefolgschaft (Allegiance) zur UdRRS; der Charakter muss eine Begegnung mit einer Begegnungsstufe, die mindestens sechs Stufen über seiner eigenen Charakterstufe liegt, bestehen – der Ausgang dieser Begegnung muss direkt den Staat betreffen
Requisitions SG: 48
Reputationsbonus: +10
Speziell: Einmal pro Tag kann ein Träger dieser Auszeichnung als volle Handlung einen Aktionspunkt ausgeben, um seine Genossen zu inspirieren. Alle anderen Charaktere dürfen dann für den Rest der laufenden Begegnung den Würfeltyp ihres Aktionswürfels um eins vergrößern (aus einem W6 würde so zum Beispiel ein W8 werden).
Imbohlorden
Der Imbohlorden ist eine der höchsten Auszeichnungen, die an Zivilisten und Soldaten gleichermaßen verliehen werden. Er wird für herausragende Dienste an den Ländern des Roten Sterns vergeben, für ihre Verteidigung und ihre Stärkung im Frieden, in der Industrie und Zauberei.
Voraussetzungen: Gefolgschaft (Allegiance) zur UdRRS
Requisition SG: 45
Reputationsbonus: +8
Medaille für einwandfreien Dienst in der Flotte
Diese Medaille wird an Soldaten der Roten Flotte verliehen, die ausgezeichnete Leistungen in der kämpferischen und politischen Ausbildung gezeigt haben, oder die im Rahmen ihres Militärdienstes besonderen Mut oder Selbstlosigkeit gezeigt haben.
Voraussetzungen: Getrennte Gefolgschaften (Allegiances) zur UdRRS und zur Roten Flotte
Requisitions SG: 18
Reputationsbonus: +2
Tapferkeitsorden
Der Tapferkeitsorden wird an Unteroffiziere und Mannschaften der Roten Flotte für Tapferkeit im Angesicht des Feindes verliehen.
Voraussetzungen: Rang Starshina oder niedriger
Requisitions SG: 25
Reputationsbonus: +3
Speziell: Falls der Charakter später zum Junior Leutnant (oder höher) befördert wird, dann sinkt der Reputationsbonus dieser Auszeichnung auf +0, wenn es um andere Offiziere geht, und steigt auf +5, wenn es um Mannschaften und Unteroffiziere geht. Dies basiert auf den unterschiedlichen Einstellungen gegenüber Offizieren, die ihre Karriere als einfache Soldaten begonnen haben und nicht an einer der Militärakademien der UdRRS.
Veteranenauszeichnung des Zaubereikorps
Diese Auszeichnung wird an Zauberinnen der Roten Flotte und des Kommissariats mit 25 Dienstjahren verliehen.
Voraussetzungen: Zauberin der Roten Flotte (Red Fleet Sorceress)
Requisitions SG: 20
Reputationsbonus: +3
Speziell: Auf Grund ihrer großen Erfahrung erhalten Trägerinnen dieser Auszeichnung einen +1 Bonus auf das Zaubern von CRP-Protokollen um andere Zauberinnen zu unterstützen.
---
The artwork is taken from the concept sketches for The Sword of Lies and was used with kind permission of Christian Gossett.
The Red Star and all related characters are ™ and © Christian Gossett. Used with kind permission.
The Red Star Campaign Setting is © Green Ronin Publishing, LLC.
Die Grafik stammt aus den Konzeptskizzen für Schwert der Lügen und wurde mit freundlicher Genehmigung von Christian Gossett verwendet.
The Red Star und alle verwandten Charactere sind ™ und © Christian Gossett. Verwendet mit freundlicher Genehmigung.
The Red Star Campaign Setting ist © Green Ronin Publishing, LLC.