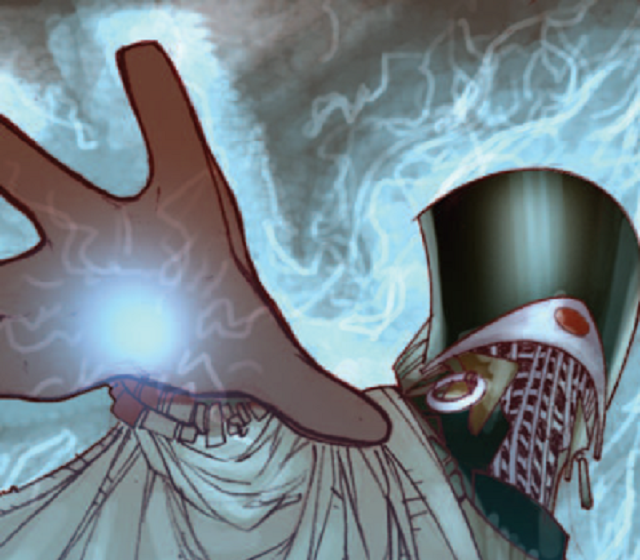 Ahmiretat
Ahmiretat (weibliche Expertin 7) ist wahrhaft uralt und kennt jeden einzelnen anderen lebenden Dorfbewohner seit dessen Geburt. Alleine schon deshalb wird ihr mit immensem Respekt begegnet. Nachdem sie so lange überlebt hat und ihr ganzes Leben lang den alten Traditionen gefolgt ist, weiß sie nicht nur, dass dies die richtige und beste Weise zu leben und handeln ist, sondern auch, wie am besten mit Bedrohungen der Gemeinschaft und ihrer Bräuche zu verfahren ist.
Abu Sardar
Nach altem Recht und Vätersitte ist der langsam älter werdende Abu Sardar (männlicher Nistaani Krieger 3) der Anführer des Dorfes. Die neuen Gesetze der neuen Regierung kümmern sich aber wenig um die traditionellen Regeln und Bräuche der Dorfbevölkerung. Zu wissen, dass eine kleine, gerade aus Koba zurückgekehrte Ausreißerin jetzt denkt, sie könne ihn missachten und sogar herumkommandieren, lässt seine Galle beinahe überkochen.
Anmerkungen
Harte alte Leute. Gegner, gegen die offene Angriffe quasi zwangsläufig dazu führen, dass die gesamte Gemeinschaft sich angegriffen fühlt.
Zwischenzeitlich hatte ich kurz überlegt Abu Sardar zu Arzus Vater zu machen, mich dann aber dagegen entschieden.
---
The artwork is taken from The Red Star: The Battle of Kar Dathra's Gate and was used with kind permission of Christian Gossett.
The Red Star and all related characters are ™ and © Christian Gossett. Used with kind permission.
The Red Star Campaign Setting is © Green Ronin Publishing, LLC.
Die Grafik stammt aus The Red Star: The Battle of Kar Dathra's Gate und wurde mit freundlicher Genehmigung von Christian Gossett verwendet.
The Red Star und alle verwandten Charaktere sind ™ und © Christian Gossett. Verwendet mit freundlicher Genehmigung.
The Red Star Campaign Setting ist © Green Ronin Publishing, LLC.