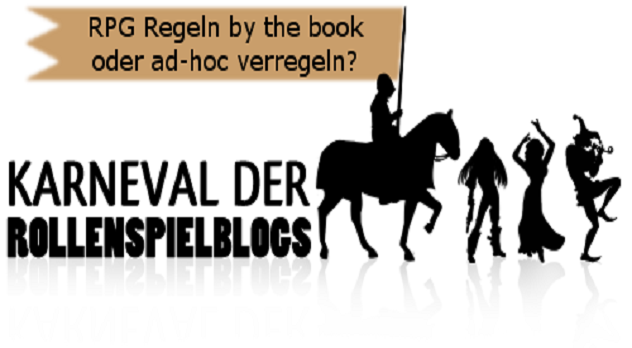 RPG-Regeln by the book oder ad hoc verregeln?: Das ist wieder einmal ein Thema, das sich für uns als sehr viel schwieriger herausstellt, als anfangs gedacht. Wenn wir die Metadiskussion vermeiden wollen, dann erscheint es zwar erst einmal sehr naheliegend sich auf Hausregeln zu stürzen, aber… …was unterscheidet dann den angeblichen Karnevalsartikel vom Gros unserer übrigen Artikel? Hausregeln beziehungsweise allgemeiner Spielmaterial – das aber eben häufig mit Regeln einhergeht – zu präsentieren ist im Großen und Ganzen der Sinn und Zweck von d6ideas. Und einfach ein Karnevalslogo auf einen beliebigen Artikel zu kleben, kann es ja auch nicht sein. Bleibt also doch nur die Theorie?
Und ist eine neue Regel – oder gar ein neues Regelwerk -, die basierend auf einer plötzlichen Inspiration außerhalb der Spielsituation entwickelt wird, eigentlich ad hoc oder by the book?
Allgemeines zum Karneval der Rollenspielblogs und die Übersicht zu dem von Sal bei W6 vs. W12 organisierten Thema ist wie üblich im RSP-Blogs-Forum zu finden.