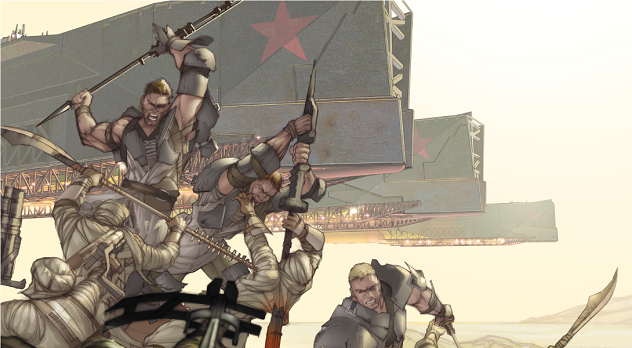 31 Aufsätze, Varianten und Erweiterungen für die modulare telekinetische Infanterielanze der Roten Flotte, den Hook.
31T1
Telekinese-unterstützter Bohrer
Da die telekinetische Kontrolle von Rotationsbewegungen einen höheren Grad an Trainung und Konzentration erfordert, verwendet dieser Bau-/Pionierwerkzeugaufsatz eine mechanische Umsetzung, um die lineare Vor- und Zurückbewegung eines mit Muskel- und/oder telekinetischer Kraft bewegten Hebels auf seinen Bohrkopf zu übertragen.
---
The artwork is taken from The Battle of Kar Dathra's Gate and was used with kind permission of Christian Gossett.
The Red Star and all related characters are ™ and © Christian Gossett. Used with kind permission.
The Red Star Campaign Setting is © Green Ronin Publishing, LLC.