Wenn wir an den Kalten Krieg denken, dann oft an Wettrüsten und Space Race, Stellvertreterkriege oder Spionage. Mit den sich zum Ende neigenden Olympischen Spielen von London, können wir uns aber vielleicht auch an eine der friedlichen Arenen dieses Krieges erinnern – Olympia.
Das wiederum wirft die Frage auf, wie es eigentlich um die Olympischen Spiele in der auch vom Kalten Krieg-inspirierten Welt von The Red Star bestellt ist.
→ " class="mce-wp-more mceItemNoResize" title="More…" />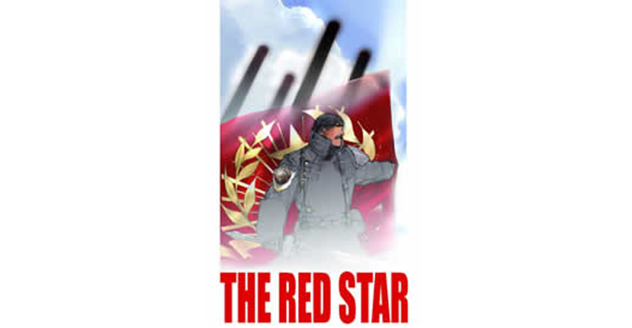 Am Spieltisch bietet ein solches Ereignis eine großartige Gelegenheit, die Charaktere direkt gegen Gegner und Rivalen antreten zu lassen, ohne sie dabei durch Ruinen kriechen oder auf die Bildschirme in Kampfmaschinen und fliegenden Festungen starren zu lassen. Aber wie unterscheiden sich die Spiele in The Red Star von denen, die wir kennen? Ja, wie heißen sie in dieser seltsamen Zerrspiegel-Parallelwelt überhaupt?
Die Hellenischen Spiele
Die alle vier Jahre stattfindenden Hellenischen Spiele waren von ihren Gründern als ein Symbol des Friedens gedacht. Eine Gelegenheit für die Nationen und Dynastien des Großen Kontinents und der Welt sich im friedlichen sportlichen Wettstreit zu messen.
Als nach dem Großen Vaterländischen Krieg die Welt unter der Führung der WTA beziehungsweise der UdRRS in ein transnationalistisches und ein internationalistisches Lager gespalten wurde, wurde aus diesem friedlichen Wettstreit der Nationen um so mehr auch einer der Ideologien.
Die Führer der Blöcke setzen alles daran der ganzen Welt zu beweisen, dass einzig ihre Vision das Beste im Menschen hervorbringen und die Grenzen physischer Perfektion ausdehnen konnte.
Der machtvolle Gedanke der Spiele blieb trotzdem erhalten, auch wenn Ereignisse auf der politischen Weltbühne den Spielen immer wieder eine kalte Verbissenheit verliehen.
Durch die weite Verbreitung von Zauberei und mentalen Fähigkeiten auf der ganzen Welt, waren diese von Beginn an gewichtige Faktoren bei den Hellenischen Spielen. Ihre Bedeutung wuchs im Laufe der Zeit nur noch weiter, je mehr sich die WTA und UdRRS auf eben diese Fähigkeiten – und auf hochentwickelte Technik – für ihre militärische und industrielle Entwicklung stützen.
Obwohl auch einige rein telekinetische Disziplinen, wie zum Beispiel der berührungslose Speerwurf, bei den Spielen zu finden sind, wird Telekinese von den meisten Athleten stattdessen zur Verbesserung und Unterstützung ihrer körperlichen Stärke und Präzision eingesetzt. Einige Disziplinen existieren sowohl in einer auf solche Weise verstärkten als auch in einer nicht verstärkten Variante. Andere wiederum wären ohne den Einsatz von Telekinese gar nicht möglich, so wie das telekinetische Ziehen, bei dem unmöglich schwere und große Gewichte zunächst telekinetische angehoben, und dann mit Körperkraft so schnell wie möglich über eine bestimmte Strecke gezogen werden müssen (eine Variation des berühmten "Lokomotiven Ziehens" der UdRRS). Bei wieder anderen Disziplinen spielt Telekinese auf Grund ihrer eigenen Beschränkungen (wie der Unmöglichkeit lebendige Körper direkt zu beeinflussen) hingegen keine weitere Rolle. Telekinetische Läufer beispielsweise existieren daher – trotz Vorwürfen von "telekinetischem Betrug" – schlicht nicht.
Zauberei durchdringt die Spiele in ähnlicher Weise. Kleine Kostproben zauberischer Leistung werden in die Darbietungen von Gymnasten eingeflochten, die in den "verstärkten" Versionen ihrer Disziplinen antreten, während beispielsweise beim stabilisierten Springen einzig und allein Zauberer-Athleten teilnehmen können – denn ohne die Fähigkeit die entsprechenden Protokolle zu zaubern (die den militärischen Protokollen für Krawl-Abwürfe manchmal bis aufs Haar gleichen), würden die Athleten zu Tode stürzen, anstatt leichtfüßig und unverletzt auf dem Boden aufzukommen, nachdem sie sich von den immer weiter in den Himmel ragenden Sprungtürmen gestürzt haben. Außerhalb der direkten Wettbewerbe findet Zauberei darüber hinaus eine breite Anwendung in der Versorgung und Sportmedizin – ganz egal ob die Athleten selbst über zauberische Fähigkeiten verfügen oder nicht –, wo diverse medizinische Protokolle eingesetzt werden, um Verletzungen und Erschöpfung zu vermeiden oder zu bekämpfen.
---
The artwork is taken from The Red Star: Sword of Lies and was used with kind permission of Christian Gossett.
The Red Star and all related characters are ™ and © Christian Gossett. Used with kind permission.
The Red Star Campaign Setting is © Green Ronin Publishing, LLC.
Die Grafik stammt aus The Red Star: Sword of Lies und wurde mit freundlicher Genehmigung von Christian Gossett verwendet.
The Red Star und alle verwandten Charaktere sind ™ und © Christian Gossett. Verwendet mit freundlicher Genehmigung.
The Red Star Campaign Setting ist © Green Ronin Publishing, LLC.