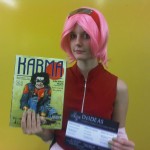 Ich bin solch ein Nerd…
Es ist mal wieder so weit. Alle 2 Jahre findet die Mega Manga Convention (MMC) in Berlin statt und d6ideas ist mit von der Partie um Einführungen ins Rollenspiel unter das Anime-Volk zu bringen.
Ich lauf durch die Gänge und erkenne fast jedes Cosplay. Meine Mitstreiter von d6ideas gucken zwar auch hin und wieder mal einen Anime oder haben mal einen Manga gelesen, aber ich stell hier dennoch die Ausnahme dar. So gibt es viel Neues zu entdecken: Für die Anime-Fans das Rollenspiel und für meine Mitstreiter die wunderbare Welt der Anime-Conventions.
Man sollte ja eigentlich denken, dass Rollenspieler und Anime-Fans eine große Schnittmenge besitzen, doch eigentlich habe ich immer wieder das Gegenteil festgestellt. Natürlich gibt es BESM, Anima und noch andere obskure Rollenspiele, die es sich zur Aufgabe gemacht haben genau diese Brücke zu schlagen. Doch diese Spiele schaffen es eher selten das entsprechende Anime-Gefühl aufkommen zu lassen. Sehr spezifische Spiele wie das Sailor-Moon-RPG haben es da schon sehr viel einfacher, da sie nur versuchen brauchen, die Stimmung eines Anime einzufangen. Aber selbst das gelingt meist nur schlecht. Und dann gibt es Spiele wie Legends of the 5 Rings, bei denen zwar auch so einen Hauch von Japan mitschwingt, viele Fans es dann aber genießen, grade dort mit dem ganzen Anime-Kram in Ruhe gelassen zu werden.
Was macht es Animes und auch Mangas so schwierig im Rollenspiel erlebbar gemacht zu werden? Die Antwort ist eigentlich ganz einfach: Die Bilder fehlen.
Anime und Mangas sind visuelle Medien. Es wird von Anime-Ästhetik gesprochen und ich hab ehrlich gesagt noch nie jemanden von Rollenspiel-Ästhetik sprechen hören. Wenn Rollenspiel mehr Anime-Gefühl vermitteln will, dann muss mehr Bildmaterial als Spielmaterial zum Einsatz kommen, und nein ein paar Exalted-Bücher auf den Tisch stellen, ist genau nicht was ich meine. Ich spreche mehr von so etwas wie Spielkarten mit Maids drauf, die man beispielsweise für das Rollenspiel Maid als Spielhilfe benutzen könnte.
Wie dem auch sei, die 3. Staffel von Shakugan no Shana hat begonnen und ich erkläre grade Anime-Fans wie mein anderes merkwürdiges Hobby funktioniert.
Ich bin quasi im 7. Nerd-Himmel.
In der nächsten Woche geht es allerdings nicht um einen japanischen Comic, sondern um Red Star (und um das unterliegende System):
Am Montag geht die nächste meiner alternativen d20 modern Klassen online: The Adventuer (Englisch).
Nogger stellt am Donnerstag seinen Artikel über die Odnaschdoi Utrom vor.