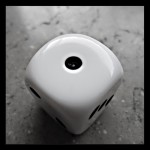 Horror macht mir wirklich keinen Spaß.
Das heißt nicht, dass ich Horror nicht leiden kann.
Ganz im Gegenteil: Ich schau mir gerne mal einen Horrorfilm an.
Aber die Stimmung, die ich suche, ist eben gerade nicht Spaß, sondern dieses Gefühl, dass sich der Brustkorb zusammen zieht oder sich gar der Magen umdreht. Genau so geht es mir bei Horror-Rollenspielen.
Meist wird der Horror in diesen Spielen über irgendeine Art von Kontrollverlust, den der Spieler erlebt, verursacht. Der Spieler ist investiert in seinen Charakter, verliert aber die Möglichkeit nach Belieben in das Spiel einzugreifen und erlebt dadurch einen Moment des Horrors. Er ist ohnmächtig zum Zuschauen verdammt, während sich die Situation im Spiel zuspitzt.
Diese Art von Kontrollverlust kann über die Spielwelt geschehen, in denen die verlässlichen Regeln, die man ansonsten immer für gegeben genommen hat, ausfallen. Aber auch über den Spieler-Charakter, indem die Handlungsweise des Charakters stark beschränkt oder sogar völlig dem Spieler entrissen wird. Das Stress-System von SLA Industries ist ein gutes Beispiel, da man in einem Feuergefecht tatsächlich manchmal mehr Angst davor hat einen Nervenzusammenbruch als eine tödliche Verletzung zu erleiden. Ebenso das Sanity-System von Call of Cthulhu, das den langsamen und unaufhaltsamen Verfall des Charakters voran treibt. Normalerweise hat man noch ein paar mehr Systeme im Kopf, wenn man über das Rollenspiel-Horror-Genre nachdenkt, aber es gibt auch Systeme, die Horror erzeugen können und nicht im klassischen Sinne als Horror-Rollenspiel wahrgenommen werden. Erst neulich hatten wir in einer Runde eine längere Diskussion über die Dark-Side-Regeln von Star Wars. Star Wars d6 und d20 haben mehr oder minder dieselben Regeln. Aber wir haben uns entschieden Star Wars mit GURPS zu spielen und unser Spielleiter hatte die Dark-Side-Regeln selber zusammengebaut. Gerade unsere beiden Jedi-Spieler waren sehr verunsichert, wie stark die dunkle Seite Einfluss in ihren Charakter nehmen konnte. Die dunkle Seite war für die beiden klar zum Horror-Element geworden.
Das Horror-Rollenspiel hat insofern eine Sonderstellung, da es nicht irgendein Film oder Computerspiel ist, das den Horror vermittelt, sondern andere Menschen. Es ist daher wichtig, dass man darüber redet und sich auch selber klar macht, wie viel Horror man selber verträgt bzw. wie viel Horror man in der Position des Spielleiters ausüben sollte, kann und darf. Je nachdem wie intensiv man seine Rollenspielrunden mag, kann das es für einzelne Beteiligte ganz schön ans Eingemachte gehen. Es erscheint mir etwas merkwürdig diesen Tipp zu geben, aber von dem was ich von einigen Runden mitgeschnitten habe, wäre es für manche Rollenspieler wirklich vielleicht ganz ratsam sich zu informieren, was man unter einem "safe word" oder "aftercare" in der BDSM-Landschaft versteht. Ich kann einen Film einfach ausstellen, ein Kino kann ich einfach verlassen, aber mit Menschen muss ich halt meist irgendwie reden. So redundant das jetzt vielleicht scheinen mag, so ist es wichtig seinen Mitspielern insbesondere seinem Spielleiter Vertrauen entgegen zu bringen. Denn eigentlich jeder am Tisch will eine gute Zeit zusammen verbringt, und auch wenn es sich manchmal so anfühlt, niemand will einem etwas Böses.
In diesem Sinne, viel Spaß mit Euren Horror-Spielen und hoffentlich auch viel Spaß mit unseren 3 Artikeln nächste Woche, die wir uns wieder erwürfelt haben:
Deutsche Artikel:
Am Montag lernen wir, wer des Kaisers neue Verkleider sind.
Mittwochs wird uns in On Stranger Tastes: Früche Poseidons erläutert, welch' merkwürdigen Früchte man in Blue Planet erwerben und vom Baum pflücken kann.
Englische Artikel:
Am Mittwoch erscheint On Stranger Tastes: Fruits of Poseidon in englischer Sprache.