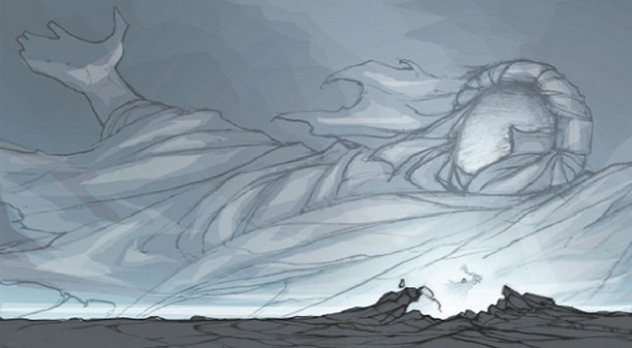 Abd al-Azar
Abd al-Azar (männlicher Nistaani Schamane 6) ist der Schamane des Dorfes und als solcher die höchste religiöse Autorität vor Ort und eine der tragenden Säulen der Dorfgemeinschaft und der traditionell-konservativen Machtstrukturen. Aus seiner Verachtung für die internationalistische Regierung und ihre Vertreter und seinem Entsetzen über ihre gottlosen und gefährlichen Reformplänen macht er keinen Hehl. Die ersten grauen Strähnen in seinem ansonsten tiefschwarzen Haar und Bart lassen ihn zusammen mit der Würde seines Amtes älter erscheinen als er ist.
Khurshid Sher
Khurshid Sher (männlicher Nistaani Krieger 5/Derwisch 5) ist ein Außenseiter im Dorf, dem als heiligem Mann in gleichem Maße mit Furcht und Verehrung begegnet wird. In seinem Umgang und Äußeren wirkt der Anhänger einer Sekte von Mystikern harsch und zeitlos wie das Land selbst und gibt sich erhaben desinteressiert an so weltlichen Dingen wie der Frage, wer in Koba regiert, wie hoch die Steuern sind, oder an wen Land verteilt wird.
Anmerkungen
Die beiden religiösen Pole des noch namenlosen Dorfes in Al'Istaan, in das sich die Mitglieder der Roten Flotte und des Kommissariats ganz zu – oder sogar noch vor – Beginn der Intervention in Al'Istaan (und zu Beginn einer ebenfalls noch namenlosen neuen The Red Star-Kampagne) verschlagen finden werden.
Mit dem Derwisch als Ruhepol und dem Schamanen als aggressiver Gestalt sind erst einmal die klassischen Erwartungen ein wenig gebrochen, aber die Idee ist auch die volatile Natur des Konfliktes zu unterstreichen, das Sieden unter der Oberfläche, das noch nicht vollends entfesselte Gewaltpotential, in das die Rote Flotte und besonders die Charaktere un- oder höchstens halbwissentlich hineinstürzen.
---
The artwork is taken from The Red Star: The Battle of Kar Dathra's Gate and was used with kind permission of Christian Gossett.
The Red Star and all related characters are ™ and © Christian Gossett. Used with kind permission.
The Red Star Campaign Setting is © Green Ronin Publishing, LLC.
Die Grafik stammt aus The Red Star: The Battle of Kar Dathra's Gate und wurde mit freundlicher Genehmigung von Christian Gossett verwendet.
The Red Star und alle verwandten Charaktere sind ™ und © Christian Gossett. Verwendet mit freundlicher Genehmigung.
The Red Star Campaign Setting ist © Green Ronin Publishing, LLC.